The following text is posted beside the portrait of Dr. Harry R. Abbott at the Dentistry Library:
PORTRAIT – HARRY RANDOLPH ABBOTT, 1854-1921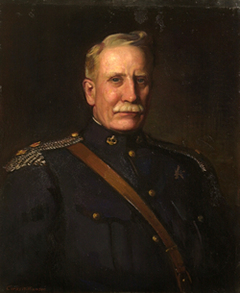 The Harry R. Abbott Memorial Library was established in 1925. Dr. Abbott's sister's will provided for the establishment and maintenance of a dental library with the trust fund to be administered by the Royal College of Dentists of Ontario. The Harry R. Abbott Library is housed at the Faculty of Dentistry, University of Toronto and remains a continuing memorial.
Dr. Abbott graduated from the R.C.D.S. in 1877, in 1901 received his dental degree from Trinity and engaged in professional practice in London, Ontario. He joined the militia in 1897 and held the rank of major, commanding "A" Squadron of the 1st Hussars. He was first president of and a leading powerful force in the Dominion Dental Council, an institution which he was largely instrumental in forming. After 45 years, the Dominion Dental Council was succeeded by the National Dental Examining Board. His influence, courageous rightmindedness and leadership in all activities related to his profession were profound and far reaching.
A Great Canadian Dentist:
"Big hearted, generous, loveable, spontaneous, substantial — he was a rare combination. He fought for the welfare of dentistry during his whole career."
C.N. Johnson (former Alumni, faculty, and Faculty Librarian)